Local Girl Scouts learn the pizza business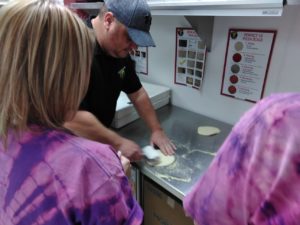 On April 20, 2019, the Reynoldsville/Sykesville Junior Girl Scout Troop 20253 was treated to a tour and hands on learning opportunity at Fox's Pizza of Reynoldsville.
Owner Steve Weaver and employee Kristi Potter took time out to teach the girls how to make their own pizzas and the process of running a restaurant.
There were eight girls in attendance along with leaders, Cindy Strouse, Carrie Murray, Beth Sawyer and Laura Murray.
The next event for the girls will be May 27 when they will be interviewing the Reynoldsville Police Department.
Story and photos by Christy Weaver