Borough Council names Dr. Harry Kunselman Citizen of the Month at its October meeting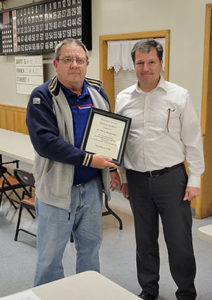 The Reynoldsville Borough Council met in regular session on October 19 and named Dr. Harry Kunselman as the Citizen of the Month for October.
Dr. Kunselman, who has a dentist's office in town and has been a lifelong resident of Reynoldsville, has served the community on a number of boards and organizations over the years.
In receiving the award, Dr. Kunselman said, "I just wanted to thank you for the honor and the recognition…I feel very privileged to be a part of this community for so many years."
ATV permits
Winslow Township Supervisor Rick August informed the council that the township, with the help of State Representative Brian Smith, will be getting new ATV signs through the Pennsylvania Department of Conservation and Natural Resources (DCNR). Because of how an ATV license is handled through the DCNR, the Township will no longer be a part of the sticker program with the borough.
"We don't have to do the stickers anymore. What you guys do is up to you…," he said.
The council will consider what it plans to do about issuing stickers for ATVs to ride on borough streets. Some expressed concern about being overrun with ATVs, but August explained the plate can be run by law enforcement like any other motor vehicle plate to find out who owns it.
According to the latest Code Enforcement Report, the borough  has received $1950 so far this year for for the program. Winslow Township is included on the sticker issued by the borough. August asked it to be removed from the sticker by next year.
Homecoming
Speaking on behalf of the Homecoming Committee, Mayor Mark August announced the Homecoming will be held August 17-19, 2023. He said there would not be a carnival at the 2023 event due to scheduling conflicts, but the committee will continue to pursue it.
Mayor August asked for council's permission to go ahead and request that PennDOT close Main Street from Third Street to Fifth Street for the festival. Council approved his request.
Ordinance problems
Council member Nichole Walk, who also serves as the borough's code enforcement officer, requested the borough's ordinance concerning animals be updated to add rabbits. She said that is becoming a problem. While those wanting to keep chickens have to get the council's approval, rabbits are not included on the ordinance. The lack of zoning compounds the problem.
Solicitor Joe Ryan was directed to look into what needs to be done to correct the issue.
Walk also said there is a growing problem with people living in campers without heat or proper sewer hook ups. Ryan will also look into an ordinance concerning that problem.
Later in the meeting, Walk was asked about the Quality of Life Ordinance that the borough uses for property and other violations. She said it was too lenient and needed to be changed. That request is also under review.
Walk also announced that in her capacity as Code Enforcement Officer, she would no longer issue parking tickets since she was now a constable and doing that could be a conflict of interest.
Route 310 designation
Robert Lott from Punxsutawney spoke to the council on behalf of his wife and her two sisters about approving their request to name State Route 310 in memory of  their brother, Anita native Bernard Himes, who was killed in action in Vietnam in 1968. 
Lott has been approaching municipalities along the route asking for their approval. He asked Reynoldsville Council to approve the request and send a letter to Representative Brian Smith's office to that effect. The proposal must get legislative approval.
Council will take action on that request at its next meeting Nov. 7.