Covid stimulus money causes controversy at Reynoldsville Borough Council meeting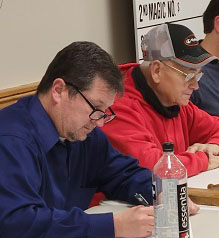 When the borough received its first allotment of Covid stimulus money totaling a little more than $138,000, it was sent to the Reynoldsville Water and Sewer Authority for a project on the water tank. That was the project that was placed on the paperwork that had to be submitted to the state to receive the money since, at the time, the projects on which the money could be spent was limited to sewer, water and infrastructure projects.
However, a motion to that effect was not approved, so at the October 19 council meeting, a motion was presented to approve the distribution of the first allotment motion to approve transferring the first allotment Covid stimulus money to the Water Authority. It was a housekeeping issue, but Council Member Ralph August argued that the council had not been consulted when it was decided what the stimulus money would be used for. 
"That was our money,"  he said.
After a lengthy discussion with Council President William Cebulskie that got heated at times, that motion was approved.
What to do with the second allotment totaling $138, 967.69 has been a topic of discussion at previous meetings. The council is looking into what borough projects could be funded with the second allotment while keeping within state requirements.