DuBois Central Catholic second grade classes travel the world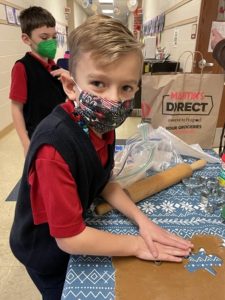 As the Orthodox Christmas quickly approaches on Friday, January 7, students in Mrs. Kassandra Loudon and Miss Linda Schalk's second grade classes reflected on how they traveled the world recently to learn how Sweden, Mexico, France, Italy, and Germany celebrate Christmas.  From St. Lucia buns to enjoying Italian Panettone to baking gingerbread, and tasting French chocolates, students immersed themselves in the different cultures.  Students ended their trip around the world learning about Israel, the birthplace of Jesus.  
"The second grade was ready to travel the world this holiday season.  It was a one of a kind experience that brought the whole world of holiday joy under one roof at DCC.  The children all started with their suitcase and passport.  They learned so much and they loved the different foods and dessert that went with each country.  You would hear the children during the day saying 'Merry Christmas' in different languages.  I enjoyed it as much as they did.  We hope to make this a yearly tradition", said Miss Schalk.
Second grade student, Kendra Mitchell echoed her teacher, Miss Schalk saying, "It was the best week ever!  I learned so much and really liked the gingerbread cookies and the crafts we made for each country."  Fellow second grade students Gemma Larkin and Hadley Sweet, added the best part of the week was tasting all of the food from each country and learning how to say 'Merry Christmas' in each language.
After baking gingerbread, students practiced their literacy and writing skills as they packed their suitcases with maps, resources, stamped passports, and wrote postcards to send 'back home' to tell of their adventures this holiday season.   Mrs. Loudon commented, "The greatest take away was watching students connect with the various cultures and traditions from around the world during Christmas time while building upon their writing and literacy skills.  This unit builds great anticipation for Christmas and the holiday season.  The children's excitement, as we took off for every country, was simply contagious!"
Story and photo submitted