Fire destroys house along 322 east of Reynoldsville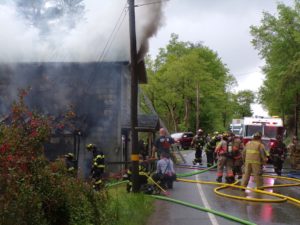 Fire struck a house along Route 322 just east of the Borough of Reynoldsville around 3 p.m. today, May 13.
The house, a rental property owned by Jack Matusky of Reynoldsville, was a total loss. The house was not occupied.
Reports at the scene indicated the cause was accidental in nature and began in the basement of the structure and quickly worked its way to the roof. Firefighters had a difficult time reaching the blaze in the attic due to the metal roof. Reynoldsville volunteers brought in their tower truck and managed to cut a hole through the roof.
It is believed one person was slightly injured but was not transported to a hospital, but that could not be confirmed.
Assisting at the scene were units from Sykesville, Sandy Township and DuBois. Reynoldsville Ambulance was also on scene.
Route 322 remains closed at this time.