Former postmaster named Reynoldsville Citizen of the Month for July.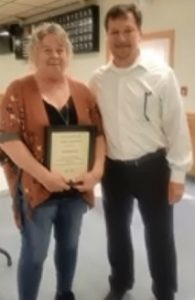 The Reynoldsville Citizen of the Month Award for July was given to Deb Frantz, the postmaster at the Reynoldsville Post Office for the past seven and half years. She retired June 30 ending her 33 year career with the US Postal Service.
"I loved the work. I loved the people," she told Reynlow Community News.
Frantz began her career as a rural mail carrier and worked her way up the ladder coming to Reynoldsville from a posting in Punxsutawney.
Right now, she said, the local post office has an officer in charge until a new postmaster is selected.
She was joined at the council meeting by her family.
(See a video of the presentation on our Reynlow News Facebook page.)