Heffner named Reynoldsville Citizen of the Month for August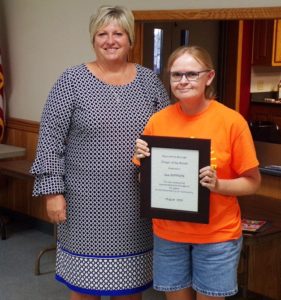 Jill Heffner, the manager at the Reynoldsville, was named the Reynoldsville Citizen of the Month at the monthly borough council meeting held August 20.
The award was presented by council member Robin McMillan, who honored her for her efforts at the pool.
McMillan said, "If it weren't for her continued efforts even in the off season we wouldn't have the pool that we have."
Heffner started at the pool as a worker in the concession stand, then became a lifeguard and eventually became the pool manger, a position she's held for 26 years. She is also the pool director for the DuBois Area School District.