Local 14 year-old selected for a national softball team. An article by Peggy Zortman.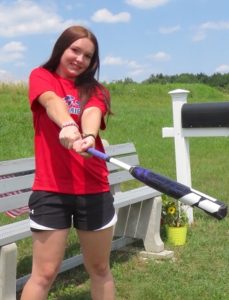 Elliette Brewer of Reynoldsville has been chosen from among 1700 participants to represent the Northeast Region of the United States on the ALL AMERICAN USSSA TEAM.
The United States Specialty Sports Association (USSSA), formerly the United States Slow-pitch Softball Association, is a volunteer, nonprofit organization based in Viera, Florida.
Brewer will be participating with the team in Viera, Florida, July 31 thru August 6, 2023. 
"E" (a nickname given by a coach) lives with her parents Jesse and Erin Brewer and her younger siblings, sister Jalyssa and brother Ryker. This athletic DuBois Area High School student is a lefty who plays first base and she can hit. She has seven out-of-the-park home runs at the DuBois Park to her credit so far. She just received a custom bat — purple (her favorite color) with her name "E" and her number "5" on the handle. 
"I'll have to practice with it," she said.
"E" started her baseball career at age five with T-Ball then at age seven moved up to Little League in Reynoldsville. She plays for, or has played for, the Reynoldsville Central Little League, the DuBois Little League, the DuBois Middle School, and the Saint Mary's Pounders-Travel team. "E" also played on the DuBois All-Stars Team.
This ninth-grade honor student already plans on higher education with a goal of becoming a NICU nurse.

Our area is being very well represented at the tournament. Elliette explained that her friend from Falls Creek, Meeca Smith, has also been selected for the team.
Tournaments come with a price tag and this one is no exception. Entry fees, travel fees, motels, and meals all come at a cost. Elliette and her family have been doing fundraisers and are accepting donations to help with expenses. Good wishes are also happily accepted!
If you want to be a part of making a young lady's dream come true, get in touch with Erin or Jesse Brewer at 814.591.4070 or email Erin at mommybrew02@gmail.com.