Local girl helps classmates at Christmas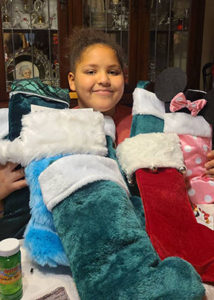 When you're nine years old and have a chance to make some extra money before Christmas, what would you do with it? One local girl decided to help others who were less fortunate than she.
La'Mya Stowe, a fourth-grader at C. G. Johnson Elementary School in Reynoldsville, heard one of her classmates was not going to have a good Christmas. She wanted to help and talked to her mother, Amanda Vogt of Reynoldsville. Her mother told her they too didn't have a lot of money to help, so La'Mya decided to paint and sell pictures to raise money to help others.
Her mother took the pictures to where she worked, S D and R in Ridgway. The paintings sold and her mother received donations, including three Christmas stockings.
Originally La'Mya wanted to help five kids, but with $58 profit and the three stockings, she decided to help eight, four boys and four girls. She and her mother went shopping at Dollar Tree. The bill came to $66, but her mom made up the difference.
La'Mya was able to keep a budget and make every dollar count. Her mother said, "She is pretty good at knowing what's expensive and what's not." She also said that her daughter is "very caring and compassionate," but every bit the typical nine year-old-girl.
When asked about how she felt about her daughter's desire to help others, Vogt said it made for a "really proud mom moment."