One Stop opens March 22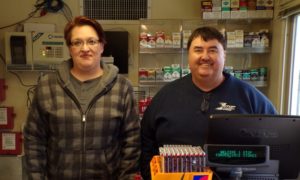 On January 22, fire heavily damaged the One Stop Convenience Store in Reynoldsville. Exactly two months later, March 22, One Stop reopens. Sort of.
Owner Jim Brown of DuBois has announced that the trailer that will be the One Stop store for a while will open at 6 a.m. on March 22. It will operate from 6:00 a.m.- 11:00 p.m. until Monday, March 25, when it will operate from 4:00 a.m.-11:00 p.m., the store hours before the fire.
The store will offer gasoline along with coffee, soft drinks, and other items.
The old building was demolished this week. As far as the new building is concerned, Brown said the plans have been completed. Now he is looking for a contractor to do the work.