Penn Highlands reopens COVID-19 unit in DuBois as hospitalizations increase across the state
At a press teleconference held on November 12, Penn Highlands Healthcare (PHH) officials announced it has reopened its COVID-19 unit in DuBois due to the rising volume of cases in our area.
The unit had been closed in early summer due to the decrease in cases locally, but the case numbers have shown a marked increase over the past few weeks. On the day of the teleconference, the state set a new record for the number of cases at 5,488. Clearfield County added 41 new cases while Jefferson County added 8.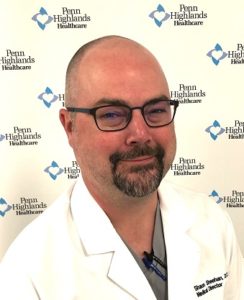 Dr. Shaun Sheehan, the PHH COVID-19 Task Force leader, said the unit provides a safe environment for the patient and healthcare providers.
"Patients in this unit are placed in negative-pressure rooms and isolated in a closed-off, secure section of the hospital where staff don additional personal protective equipment for everyone's safety," he said.
Dr. Sheehan stated Penn Highlands ordered it's own testing equipment over the summer and can now have test results within 24-hours, sometimes even within one hour. He said that PHH has "adequate personal protective equipment, ICU beds, and ventilators to keep our staff and patients safe." He added that PHH is in much better shape now with the equipment than it was back in March of this year.
Mark Norman, Chief Operating Officer (COO) for Penn Highlands, said that the increase in cases has prompted the facility to reeducate the staff on COVID protocols. Visitation restrictions to one support person will remain in place. Masks will continue to be required when entering the facility and temperature checks and verbal screenings will also continue. PHH doctors' offices will once again use the parking lots for waiting rooms as patients will be called in from their cars. Patients can also use the Penn Highlands' MyHelpNow app.
"Our hospitals are clean, safe, and continue to be here to care for our communities," Norman said.
Both Norman and Dr. Sheehan stressed that those who need medical care should not postpone seeking that care.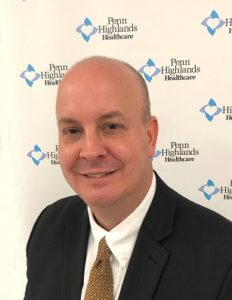 "As an emergency room physician, I saw many unfortunate cases of people presenting too late with their healthcare issue," Dr. Sheehan said. He added that the emergency rooms remain open 24-hours a day and reiterated that "sometimes delaying care can put a life at risk."
As far as a vaccine is concerned, Dr. Sheehan said he is encouraged by the latest news, but he was not able to say when it will become available.
COO Norman said that as of November 12, 20 COVID patients were being treated at Penn Highlands facilities. There have been no confirmed cases at its two nursing homes, Jefferson Manor in Brookville and Pinecrest Manor in St. Marys. Norman said some employees have tested positive since the pandemic began, and PHH continues to follow strict protocols for the safety of staff and patients.
Dr. Sheehan said the symptoms of COVID-19 are fever, cough, sore throat, shortness of breath, fatigue, diarrhea or vomiting, runny nose, and body or muscle aches. Unfortunately, those symptoms can also be evidence of other viruses that happen this time of the year, including the flu.
Because of the increase in normal patient volume over the past few months, back to 95% of per-pandemic levels, COO Norman said that the "vast majority" of employees who were furloughed back in April have returned to work.
Dr. Sheehan said he is concerned about the spread of the disease in the community.
"The more cases there are, the more people who will be affected by the virus and, unfortunately, die," he said.
He also expressed concern about the upcoming holidays. He said that between Halloween and Election Day, the area has had local cases that resulted in outbreaks, and with the cold weather coming, things could get worse. He encouraged area residents to wear masks, social distance, hold smaller gatherings and, if possible, hold gatherings outside while still following the other guidelines.
While he didn't endorse a mask mandate, Dr. Sheehan said recent Centers for Disease Control (CDC) research confirmed that a mask protects the wearer and those around them.
"What we do know is that the higher amount of people wearing masks, the less community transmission there is, and as a result, less hospitalization," he said. He noted that also means fewer deaths. He also emphasized that masks need to be worn correctly.
When asked about the possibility of renewed lock-downs, Dr. Sheehan said, "I think what we need is more mask-wearing compliance…let's not get to the point of lock-downs. Let's wear masks, wash our hands, social distance, not gather in large groups, and we can take care of this."
Penn Highlands plans to hold another COVID-19 teleconference next week.