Reynoldsville Borough Police Chief Troy Bell honored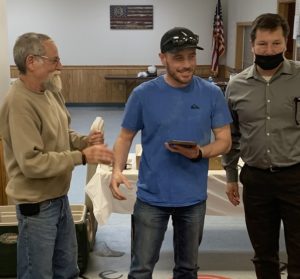 Friends, family, and colleagues gathered on March 31 to thank Reynoldsville Police Chief Troy Bell for his ten years of service to the borough.
Chief Bell will be leaving his position in Reynoldsville, his hometown, to become the police chief in Brockway.
Following a luncheon at the fire hall organized by borough secretary Jacqueline Dixon. Mayor Peach Caltagarone and Council President William Cebulskie presented a plaque to Bell thanking him for his service.
Acknowledging those present, Bell commented, "I had an opportunity to work with just about everybody here at one point or another and I've enjoyed it. Thanks again. It's been fun."
Bell came to the Reynoldsville Police Department in 2011 and then became chief a few years later.
Right now Reynoldsville is without a police officer, but that issue should be addressed at the upcoming borough council meetings.