Reynoldsville veteran helping other vets with a 12-hour treadmill marathon Feb. 15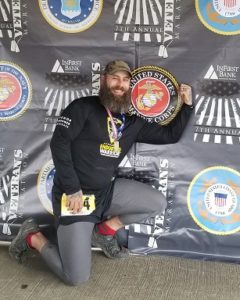 Most people who use a treadmill do so for about thirty minutes to an hour. How about hours? And hours? And hours? That's what one local man plans to do to raise money for a cause near to his heart.
Thirty-seven year old Jeff Belt of Reynoldsville is a Randolph, New York, native. He is also a Marine Corps veteran and served in several posts overseas including two full tours and one brief tour in Afghanistan. He said he misses the Marine Corps.
"Those were the best and worst times I've ever had in my life," he said.
While missing the Corps, he said he doesn't regret getting out.
"I wanted a family, " he commented. "Having a family while in the Marine Corps and deployed quite often is very difficult to do, otherwise I would have stayed in." 
Belt is a single dad of two children, Sonny, 8, and Leila, 11, something he loves to do. Something else he loves to do is help his fellow veterans.
On February 15 at 8 a.m., Belt plans to start a twelve hour run on a treadmill at Snap Fitness in DuBois to raise money for Operating Enduring Warrior (OEW), an all-volunteer organization dedicated to helping our nation's wounded military and law enforcement veterans to "overcome adversity and hardship through innovation, teamwork, and perseverance" according to its website (enduringwarrior.org). Belt is an ambassador for OEW.
"The idea is to guess how many miles I'm going to make." Belt says he has a number in mind, but he's not going to reveal it. The closest guesser will receive a two-month free membership to Snap Fitness.
Belt suffers from Post Traumatic Stress Disorder (PTSD). Being a dad helps with that, as does running, which, he says, "helps a lot."  Due to some injuries, his yearly total of miles run for 2019 was not what he wanted, but this year his goal is to run 2,020 miles in honor of the year. He says he gets about 400 miles from a pair of shoes.
Belt also helps with the running club at C.G. Johnson Elementary School. By profession, he is a personal trainer (Jeff Belt OCR Training and Fitness) who draws a lot of satisfaction watching his clients succeed.
The event will be live-streamed on the Snap Fitness Facebook page. To be eligible for the prize, all entries must be submitted by noon on the 15th.
Belt stressed that all the money he raises with go through OEW to veterans who need help putting their lives back together, the kind of help he received with his.
"The goal is to raise as much money as I can," he said.
If you would like to donate and make a guess on how many miles he's going to run, you can stop by Snap Fitness, 22 Hoover Avenue in the Marketplace Shopping Center on February 15 beginning at 8 a.m. or go to the donation page by clicking here.