Reynoldsville War Memorial Park moves forward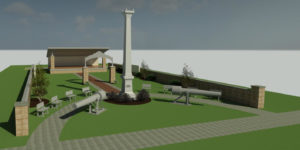 The Reynoldsville War Memorial Park has crossed a big hurdle.
On June 26, the War Memorial Committee voted to finalize the deal for two properties on Main Street beside the Uni-Mart convenience store. Plans are to begin demolition as soon as possible to prepare the site for the park.
Ray Bussard of KTH Architects presented a concept drawing of what the park might look like, but stressed it was just a preliminary drawing. Those at the meeting offered additional ideas and suggestions as part of the beginning of the design process.
Plans are to relocate the Civil War monument and cannons currently located at the Reynoldsville Pool to the park. The memorials in front of the Reynoldsville Post Office will also be moved to the new location.
The park will include an amphitheater where the community can gather for concerts and presentations.
Plans are to publicize the park and start fundraising at the upcoming Red, White and Blueberry Festival July 12, 13 and 14.