Up on the roof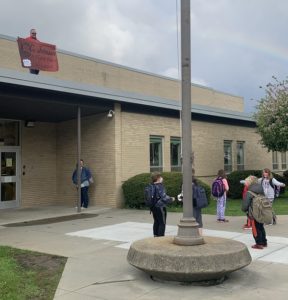 C.G. Johnson Elementary School Principal Dr. Ed Dombroski greeted students from the roof of the school on a windy and cold April 30. His appearance there was to keep a promise he made to the students that if they did well in a reading competition from March 5-April 15. It started on March 5 because that was the end of the school's Read Across America Week celebration.

The students read 111, 610 minutes for approximately 6 weeks. The number of minutes was determined by the estimated height times the age Dr. Seuss would be this year, 116 years.
The students documented their reading minutes either on paper or in their Google Classroom.
In 2019, the students read Dr. Dombroski to the roof by reading 923 books.