Work on the Reynoldsville Veterans Memorial Park continues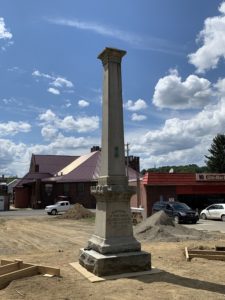 The Reynoldsville Veterans Memorial Park Committee met on September 2 at the Reynoldsville American Legion.
Committee president Dan Edwards said that the work that has been completed so far would have cost an estimated $72,000 if it hadn't been for the donations of labor, equipment and materials. As it stands, the committee has spent $16,400. Edwards said it has been a true community effort.
"It's quite impressive," he commented and commended those who have helped and donated.
The Civil War era cannons have been sand blasted and painted thanks to a donation by Howard Moore of Reynoldsville. Members of the Reynoldsville Falcon Football Team painted the cannons. Edwards said some additional work on the cannons will be completed in the spring.
Korb Monuments moved the Civil War Monument from the pool to the site. Plans are to clean the monument before winter.
The Hero Banner project has wrapped up with the final banners being delivered to the borough for installation. The project raised an estimated $7500 for the park.
Janine Wolverton of the Reynoldsville Legion Ladies Auxiliary said the paver fundraiser is progressing well with about 30 people signed up to purchase pavers. Order forms are available at the legion. It was also suggested they be placed at the library.
Some discussion was given to the amphitheater planned for the back of the park. Park designer Ray Bussard said the plans are being drawn up by KTH Architects.
Site committee member Ralph "Tucker" August said plans are to continue to place top soil at the site and eventually plant grass for the fall season. The pavers will be installed next summer. The committee is also looking at locating the Purple Heart Monument at the site before winter as well as the WW I and WW II monuments that were purchased by the Legion. Korb Monuments is looking into moving the memorials in front of the Post Office on Main Street.
A fundraising campaign kick-off is planned for October. Plans are also being made for a Veterans Day ceremony at the site on November 11.