Demolition begins on veterans memorial park site in Reynoldsville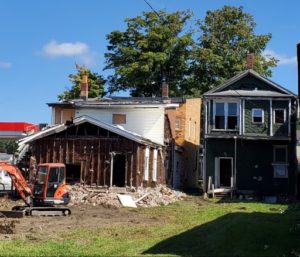 Demolition has started on the buildings where the new Reynoldsville Veterans Memorial Park will be located of Main Street.
Ralph "Tucker" August tells reynlownews.com that the brick building adjacent to the Uni-Mart will be the first building to come down. An environmental study completed on that building revealed there wasn't any asbestos. Samples were taken from the building beside it. Those will be sent out to be checked, and it could take up to 10 days before any work can be done.
August said the plan is to complete work around the brick building which includes installing a way to keep bricks from falling on the Uni-Mart parking lot. He says next week, he will use equipment donated by W & W Equipment of DuBois to finish the demolition of the first building.
In a meeting last week, Ed Yahner of Advanced Disposal said his company would work with the Borough of Reynoldsville to provide the equipment necessary to haul away the debris free of charge.
Plans are to build a veteran's memorial park on the site which would include an amphitheater. The fundraising campaign is just getting underway.