DuBois member becomes Jaycees State President for the first time since 1972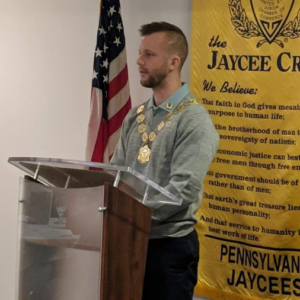 Neil Hanes of the DuBois Chapter was officially sworn in as the 83rd Pennsylvania State Jaycee President at the year-end board meeting held in Wyomissing, PA, on February 9.
Hanes' theme this year is "Dare To," in which he urges new and returning members to step out of their comfort zone and step up to take on new and exciting challenges. His main focus is to build engagement with current membership while also striving to gain more interest among potential new members throughout his tenure. Hanes also looks forward to carrying on the passion for the Jaycee organization that has been upheld by the past presidents before him.
This is only the second time a DuBois member has held the position as state President. Elmer Myers held the position as state President in 1972. Hanes is honored to follow in Myers' footsteps and hopes to carry on the legacy that he set before him.
Also sworn in for the 2019 state board were DuBois members Megan Vallely as State Treasurer, Sheri Price as State Secretary, and Summer Anderson as Hanes' Communication Director. Hamburg Chapter member Amy Newton (72nd State President) will serve as Hanes' Chief of Staff and fellow chapter member Krista Muir (77th State President) will be an advisor to Hanes. 2018 PA Jaycees President Colleen Whitman will also serve as an advisor.
Hanes says he is excited for his new role within the Jaycee organization and looks forward to the year ahead. He plans to visit various events around the state and is excited to meet members from all the different chapters around Pennsylvania.
If you would like to reach out to President Hanes, you can contact him at pa@jciusa.org.
(Story and photo submitted)