Heroes and heroines–the Reynoldsville Ambulance Service (Article and photo by Peggy Zortman)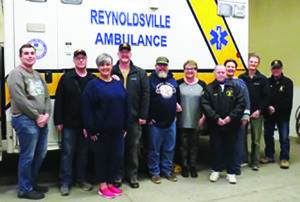 (Editor's note: this article appeared in the April edition of the Reynlow Community News.)
Reynoldsville is blessed with many heroes and heroines. I recently met with some of them — the volunteers who are the Reynoldsville Volunteer Ambulance Service.

At one time, local funeral directors handled emergencies and trips to the hospital, but the need had outgrown what they could provide. Local businessmen got together, and in June 1973, the Reynoldsville Area Ambulance Service, Inc. was formed. Their first ambulance was a van style. Not long after that, they were able to purchase a second ambulance — a Pontiac Hearse style.

As the need grew, the Ambulance Service, mostly with local donations, was able to build the building that now serves as the headquarters for our volunteers in 2008.

Two state-of-the art vehicles are now housed there. One is a 2003 model; the other is a 2011 four-wheel drive. They have been well maintained, but are aging, with the estimated cost of a new one being $250,000 to $300,000.

Every third year the vehicles and the supplies must pass rigorous inspections by the Pennsylvania Department of Health. Any expired materials must be disposed of — even if the sealed package is still intact. All expired material must then be replaced at the cost of the Ambulance Service.

Upkeep of the building is yet another expense, as well as insurance costs, which continue to rise.

Let's do a What if . . .  
It's the wee hours of a stormy morning, you are alone and having chest pains. As the pain increases you call 911. Within minutes, medical help arrives. Your situation is quickly assessed; you are made comfortable and then transported to a local hospital. Your life has been saved by strangers . . . the Reynoldsville Ambulance Service Volunteers. 
But what if there were no volunteers? What if you had to wait for help to arrive from a nearby town? What if . . .

Our heroes need our help so they can continue to help us. But how can we help?

The 2022-2023 membership drive will begin in June. You say your insurance pays for that — perhaps. Consider that our local ambulance gets only a portion of what the insurance company pays and on certain calls nothing at all.  So your membership helps to offset some of their expenses.

Membership costs too much, you say . . . how much is your life worth?

Financial help isn't all or even the most important thing our volunteer ambulance service needs – they need qualified volunteers. 

After you pass the test to become an EMT, you will have to keep up your continued education training to be able to recertify every three years through the Pennsylvania Department of Health. The staff is always learning and keeping up on new protocols put out by the Pennsylvania Department of Health.
Let's look at that "What if?" from a different angle. When you called 911 someone got out of a warm bed, quickly dressed and headed out into the storm. That person is dedicated, well trained and courageous. That person is balancing a job to make a living with volunteering to save your life . . . real heroes and heroines.  
"Why did you join?" I asked the folks at the meeting. "Why do you stay?"

Each person had a different reason for joining, but every one of them had the same reason for staying . . . "The satisfaction of knowing I helped."
If you are interested or want more information on becoming one of those heroes, call the Ambulance Building at 814-653-8746 and leave a message or visit their Facebook page.