Jeff Tech awards the Thomas Tinker Memorial Scholarship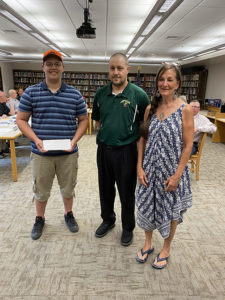 The Jeff Tech Operating Committee met on June 28 and awarded the Thomas Tinker Memorial Scholarship to a member of the Class of 2021.
Cort Holben, a Brookville Area School District student and the son of Scott and Michelle Holban, was awarded the scholarship in the amount of $2150.
Tinker, who taught drafting at Jeff Tech for 24 years, passed away in December of last year after a 21-month battle with brain cancer.
In the presentation, School Director Dr. Barry Fillman said that when the scholarship was created, Tinker's devotion to Jeff Tech and education was foremost on the committee's mind.
"We tried to consider that student that would embody both Tom's spirit and that desire to continue to improve and grow into a profession. Cort Colban…has embodied a lot of that," he said.
Also present at the presentation was Tinker's widow, Amy, who thanked the committee and the school staff for their support during his illness.
"I just want to thank everybody for helping us go through that time," she said. She added she was grateful for the opportunity to meet Colban and that her late husband was pleased to have him in his classroom.
Holben is enrolled at Penn State DuBois in the mechanical engineering program