One Stop destroyed in Reynoldsville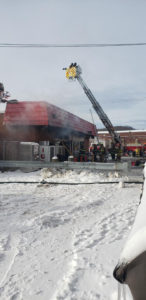 Fire broke out shortly after 2:00 p.m. today in the One Stop Convenience store on Main Street in Reynoldsville. Store employees quickly escorted customers out of the shop. Employees called the fire in.
Volunteer firefighter Dave Wruble, who owns the Sub Hub located next door, went to the store with a fire extinguisher but said he quickly realized it was a large fire. He made sure no one was inside and left. Reynoldsville Fire Chief Darren Scolese said the building was fully engulfed when units arrived on scene.
Units from DuBois, West Sandy Township, Sykesville, Brookville, Pine Creek Township, McCallmot Township and Punxsutawney assisted at the scene. Traffic on PA Route 322 was rerouted for several hours.
Chief Scolese said the today's weather had warmed up enough that it did not hamper the firefighters. He said the fire appeared to start in the ceiling and may have been caused by a faulty furnace, but the exact cause is not known at this time and a State Police Fire Marshall will be called in to investigate.
No one was injured. One Stop owner Jim Brown of DuBois said the building was insured. There are no damage estimates at this time.