The Reynoldsville Industrial Development Corporation: A History by Peggy Zortman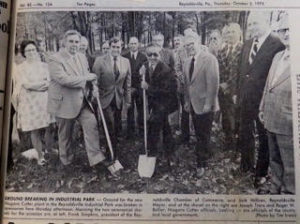 In March 1972, the Reynoldsville Chamber of Commerce met for the first time in an organizational meeting. Eugene F. Smith was selected as President, George H. McClure Vice President, Eugene E. Deible, Jr. Treasurer,  James P. Kelley Secretary, with Directors Steve Petrick, Bob Black, William Wescoat, Ben Sherman, Francis Fusco, Donald Dennison, Robert Hanak, Robert Dennison, and Kenneth Delaney.
   At the second meeting April 3, 1972, committees were formed; among them was the "Industrial Development" Committee to be headed by Kenneth Delaney. This was the beginning of a search for industry for Reynoldsville.
   Mr. Delaney chose Tony Cebulskie and Mark Wildauer to assist in the search. Herm Frost soon became part of the committee. They first contacted industries in the area with the intent of expansion in Reynoldsville, but places to expand to were scarce.
   Many things happened quickly.  The Erskine Building at the corner of Third and Main (now a vacant lot) became available. About that same time Ken Delaney met with Hud Moore concerning the Reynoldsville Land & Improvement Company (now Industrial Park land). At that time, Mr. Moore did not want to turn the land over to the fledgling chamber but wanted to work together for further development.  It became evident that the Industrial Development Committee should be spun off from the Chamber to become its own entity and that a fundraiser was needed.
   Frank Doogan from Long Island, New York, a professional fundraiser, was hired to organize and head the fund-raising campaign, and Ms. Ruth Burns was hired as the campaign secretary. 
   Four local banks (First National Bank of Reynoldsville, Union Bank & Trust of DuBois, Keystone National Bank of DuBois, and Deposit National Bank of DuBois) donated money in support of the project. First National Bank's gift included a one-dollar ($1.00) transfer of several acres they owned in the proposed Industrial park. Local businesses and individuals joined the effort with donations and memberships. Their participation helped put the fundraiser over the top. RAID raised more than $75,000 in only six weeks. They now had the funds needed to proceed.
  On March 15, 1973, the Articles of Incorporation were read and signed, and the Chamber's Industrial Committee officially became Reynoldsville Area Industrial Development Corporation (RAID).  Information on the original officers could not be found, but in the Reynoldsville Star, on April 11, 1974, it was announced that the original members had agreed to serve another year. They were listed as Eugene F. Smith, Nancy (Norris) Fierke, Peggy (Murray) Zortman, Mark Wildauer, Kenneth Delaney, Tony Cebulskie, Herm Frost, George McClure and Bill Wescoat.
   Groundbreaking for the new industrial park took place in September 1974. Land was acquired, cleared, facilitated with water and sewage services, and in 1975 it was announced that Niagara Cutter, Inc. of North Tonawanda, New York (manufacturer's of high-end metal cutting tools) had purchased land in the park and would build a manufacturing plant.
   Groundbreaking for the new industry took place in October 1975.
   In December 1976, Reynoldsville Council had been approached by RAID with a request to build a new access road to the park. Council President Ray Tost reported that he had been to Harrisburg "to secure and assure" funding for the project. He further reported, "The project would be recommended by the Appalachian Regional Commissioners," and "The Jefferson County Commissioners have already agreed to secure funding for the project through the Liquid Fuels Tax refunds." Grants were obtained including one from the Pennsylvania Department of Commerce (PIDA) to fund the endeavor.
   Not much more can be found about the park, but several industries joined Niagara Cutter. There is also movement concerning the access road, which will be discussed further in the next issue of Reynlow Community News.
   Footnote 1: In researching this article, many names were mentioned (too many to list); it seems that nearly everyone in and near Reynoldsville was involved in creating our Industrial Park.
Footnote 2: Information for this story was collected from The Reynoldsville Star. The Reynoldsville Public Library has a large archive of the newspaper available to the public.