Repairs being completed on Methodist Church garage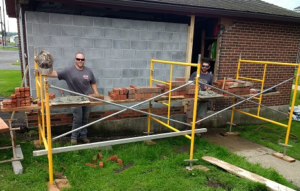 Work is being completed on the garage adjacent to the First United Methodist Church on Jackson Street in Reynoldsville.
Back on a snowy March 3rd evening, a pickup truck skidded off the alley and hit the building causing more than $7500 in damages. The driver was not injured.
The work is being completed by Wallace Masonry of Clearfield.