Reynoldsville Borough Council reorganizes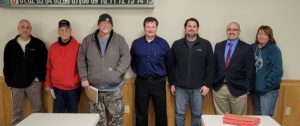 The Reynoldsville Borough Council met in a work session on January 3 and reorganized.
New Mayor Mark August presided over the initial part of the session. William Cebulskie was reelected council president. Kyle Gordon, who was appointed to council last year and then won a term in the November election, was named vice chairman. Max Smith, who followed the same path as Gordon last year, was named council pro tem.
The council also welcomed a new member, John Chesnalavich, Jr., who won a council seat in November.
Meeting dates for the coming year were set. Work sessions will be held on the first Monday of each month at 6 p.m. Regular meetings will be held on the third Wednesday of the month also at 6 p.m. The meetings will be held at the fire hall.
In the regular meeting that followed, the council was asked about a $22,500 grant approval that was recently announced by the Pennsylvania Department of Conservation and Natural Resources The money will be used to fund a feasibility study for rehabilitating the Reynoldsville Pool. It is hoped this study will open the door for additional funds. (see related story here).
Council also heard from a former borough tax collector Christy McGranor who thanked Reynoldsville Borough Police Officer Tammy Murray for her assistance with an incident that occurred in December. The next person who spoke, a former borough resident, aired her grievances about Officer Murray. She was referred to Mayor August who is in charge of the department.
The council also approved placing a no parking sign on South Thirteenth Street.
In response to a request from the Reynoldsville War Memorial Park Committee, the council approved purchasing a bench at the park that will be dedicated to honoring all residents who served in the military. The cost for the borough was $1,000 since it will be placed in the front of the park where the base has already been repaired.
The council also approved a Local Economic Revitalization Tax Assistance (LERTA) request from Sintergy, Inc., located in the borough industrial park. The company plans to complete a $1.4 million dollar expansion project.
LERTA is a state program that provides a tax exemption for a period of time to projects that bring investment and jobs to a municipality.
Some discussion took place at the end of the meeting about ATV permits. Those wishing to get a permit will need to see Reynoldsville Borough Code Enforcement Officer Nichole Walk at her office in the old ambulance station behind the borough building. The hours are Monday through Wednesday 9 a.m. to 5 p.m.