Reynoldsville Fire Department commended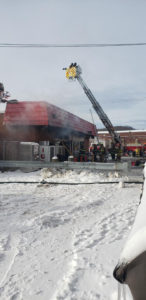 Reynoldsville Borough Council took some time at Wednesday night's meeting to commend the fire department on its response to the One Stop fire this week.
Fire Chief Darren Scolese was at the meeting and provided council with an overview of what occurred. He stated the way the structure's roof was designed, the firefighters were able to be aggressive in battling the blaze inside the store. He also said the preliminary investigation points to a problem with the furnace, but the fire remains under investigation.
Chief Scolese also told council that the owner (Jim Brown of DuBois) plans to rebuild.
(For a complete run down of the fire click here)