Reynoldsville water crews working on major line break on Fifth Street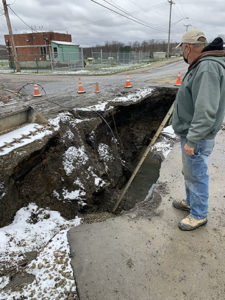 Reynoldsville Water and Sewer Authority crews have been working on a water line break on Fifth Street across from Mike's BILO since Monday of this week.
Systems Manager Robert Crosby estimated that 400-thousand gallons of water have been lost. Crews had to dig about ten feet below the road service to reach the break. They are replacing the pipe from the Jackson Street intersection to the area of the break on Fifth Street. There was another leak at that intersection today.
Work will continue at the site until at least Friday. A temporary line has been run to BILO so the store can have water until the break is repaired. Traffic is being re-routed around the area.
Because of the work, the regular Water and Sewer Authority board meeting scheduled for today has been canceled.