Snyder named Reynoldsville Citizen of the Month for September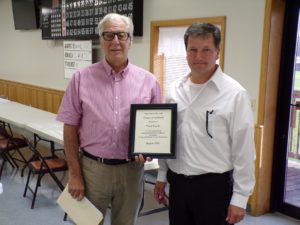 At its September 18 meeting, the Reynoldsville Borough Council presented its Citizen of the Month Award for September to lifelong resident Frank Snyder.
Snyder was honored for his years of work in the borough, especially for the Reynoldsville Golf Day that raises money to support programs for children in the borough.
In his remarks after the presentation, Snyder announced that the event, which he co-chairs with his son Jeremy Snyder, raised $6,000 in donations from Reynoldsville area businesses.
The money will be divided between four organizations benefiting children in the borough, including the Reyn-Sykes Girl Scouts, the Reynoldsville Pool, the Reynoldsville Soccer Association, and the Reynoldsville Public Library.
"It's been another fantastic year with the program," he said.
More information on the program will be provided in the October issue of Reynlow Community News.