Standoff in Reynoldsville ends in arrest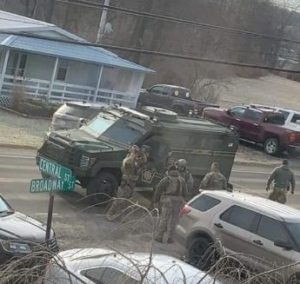 Troop C of the Pennsylvania State Police based in DuBois have released details of the standoff in Reynoldsville today.
Police say that at 3:15 this morning, they responded to a residence on 118 Brown Street for a report of a 44-year-old male who was threating people inside the residence with a firearm. Police say Steven James Shaffer entered an argument with the victims at which time an altercation took place. Shaffer was said to have discharged four rounds from a Smith and Wesson AR-15 inside the residence. The victims disarmed Shaffer prior to leaving.
When police arrived, a perimeter was established by troopers from DuBois, Clarion, Marienville, and Punxsutawney under the command of Sergeant Brad Fuhrer. The State Police SERT (Special Emergency Response Team) Unit also arrived on scene and contacted Shaffer.
At 11:20 a.m., Shaffer surrendered. He was taken into custody and remanded to jail. He faces several charges including discharge of a firearm into an occupied structure and recklessly endangering another person.
While the incident was going on, police blocked off Brown Street and adjacent streets including State Route 950. They were assisted at the scene by the Reynoldsville Fire Department.