The late Dr. Samuel Early named Reynoldsville Citizen of the Month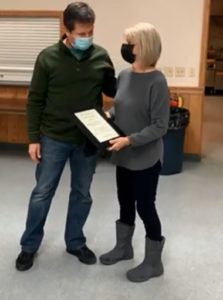 Dr. Samuel Early of Reynoldsville, who passed away on December 11, 2020, was awarded the Reynoldsville Citizen of the Month for December at the Reynoldsville Borough Council meeting held on December 16.
Dr. Early was a part of the last graduating class at Reynoldsville High School in 1965. After college, he taught school until becoming a dentist. He practiced in Reynoldsville for 38 years before retiring in 2014.
In his remarks, council president William Cebulskie said that Dr. Early will be greatly missed, and that he was a great asset to the community.
His wife of fifty years, Donna (Shiock) Early, accepted the award on his behalf.
Read Dr. Early's obituary here.