Tongue breaks on wide-load trailer in Reynoldsville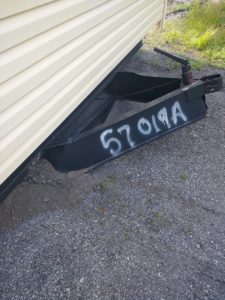 Due to construction on Interstate 80, more wide loads have been passing through the borough of Reynoldsville on Route 322. On July 9, one of the those trailers had to be left in a parking lot just outside the borough.
The 80-foot trailer was heading east on its way to Maine when the tongue on the trailer buckled causing the metal to drag on the roadway just before the Tenth Street light. Traffic was backed up as the driver made his way to a parking lot just outside the borough.
Borough Police Chief Troy Bell and Fire Chief Darren Scolese assisted with that process. Drag marks can be seen along the eastbound lane of 322. The driver said he's driven these loads for more than twenty years, but this is the first time he's seen something like this happen.
There were no injuries.