Volunteers called to house fire caused by lightning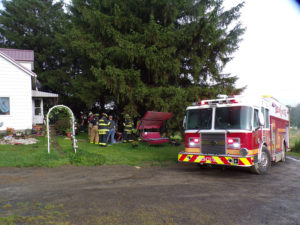 A lightning strike caused a fire at a home near Wishaw in Winslow Township on July 5.
The home, owned and occupied by John and Sue Horner, suffered damage to the roof, attic and second floor bedroom. The Horners were home at the time the lightning hit sometime around 3:30 p.m. but escaped without injury.
Reynoldsville fire fighters were assisted at the scene by units from Sykesville, McCalmont Township, DuBois and Sandy Township. Reynoldsville Ambulance personnel were also at the scene.