Child care center to open at Jeff Tech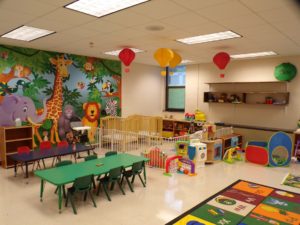 On August 27, the Little Vikings Child Care Center at Jeff Tech will be open for business. On August 19, an open house was held at the center so the public could look at the facility.
Christy Weaver of Reynoldsville is the center's director. She is assisted by a staff of five including Jessica Perry-Bailey, Erin Brewer, Anna Srock, Tara Smith, and Chelsea Engle.
The facility is separated into two classroom areas, one for infants and toddlers and the other for preschoolers.
Right now, eight slots are available for the infant/toddler's section and fifteen for the preschool section.
"Jeff Tech students, including adult education students, and faculty get priority, but the general public can also bring their children here," Weaver said. She added that the school group is eligible for Child Care Information Services (CCIS) subsidies to help with the cost. Assistance for members of the general public is based upon income.
All meals at the center will be provided by the Jeff Tech, including breakfast, lunch, and a snack.
The hours of operation starting on the 27th are 6:30 a.m. to 6:30 p.m. The center will be closed when the school is closed, but Weaver added that plans are to keep it running during the summer break next year.
If you want more information about the center, email lilvikingschildcare@gmail.com or visit their Facebook  page.