DCC TO HOST 34th ANNUAL FATHER LEOPOLD 8th GRADE GIRLS' BASKETBALL TOURNEY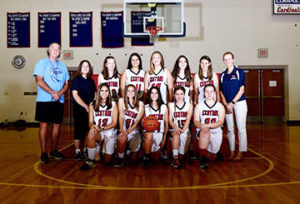 The 34th ANNUAL FATHER GREGORY LEOPOLD 8th GRADE GIRLS' BASKETBALL TOURNAMENT will be held at DuBois Central Catholic in the Varischetti Sports Complex this weekend, Friday, Oct. 15 and Saturday, Oct. 16.
The eight schools participating are assured of three games and include Lady Owls of Bradford, Lady Beavers of DuBois, Lady Cardinals of DuBois Central Catholic, Lady Chucks of Punxsutawney, Lady Bulldogs of Redbank Valley, Lady Dutch of St. Mary's, Lady Vikings of Venango and team eight is to be announced.
The first-round games begin on Friday at 4 p.m. with DCC vs Lady Vikings. On Saturday, first-round games lead off with the Lady Owls vs Lady Bulldogs at 9 a.m. Concessions and 50/50 chances will be available for purchase.
The tourney, which is held each fall, is in memory of the late Reverend Father Gregory Leopold, a teacher and avid supporter of student athletics at Central prior to his untimely death in an automobile accident in 1984.
Michele Burley, Administrative Assistant in the Elementary said, "The tourney is a tribute to Fr. Leopold because he was a great supporter of athletics at DCC and an excellent teacher. Athletic Director, Phil Esposito said "Due to the pandemic we had to cancel the tournament last year. It is great to see this tradition and tournament promoting basketball return."
The tournament is organized and sponsored by the DCC Athletic Department, with the support of the parents of the middle school Lady Cardinals.
The tournament is open to the public at DuBois Central Catholic. Masks are required inside the building. Tickets may be purchased at the door. A Two-Day Pass is $10 for adults and $5 for students. A One-Day Pass is $5 for adults and $3 for students. All tickets may be purchased at the door.
All games will be live-streamed on the DCC NFHS network site at www.nfhsnetwork.com .