Governor announces plan for reopening the state; sets May 8 for North Central and Northwest PA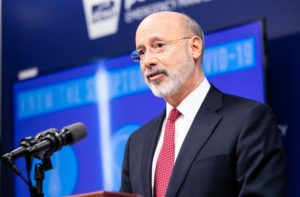 Governor Tom Wolf last night announced his plan for reopening the state if the cases of COVID-19 decline at an acceptable rate.
Using a color-coded system, red, yellow, and green, Wolf's plan shows a gradual return to what is being called a "new normal" on May 8.
Northcentral and Northwestern Pennsylvania are areas that the Governor hopes to reopen first.  He did not mention specific counties by name, but the plans devides he state by the PA Department of Health (DOH)  regions (see below). The Northwest region of the DOH includes Cameron, Clarion, Clearfield, Crawford, Elk, Forest, Jefferson, Lawrence, McKean, Mercer, Venango and Warren Counties
On May 8, if all the criteria are met, the area would move from Red to Yellow on the Governor's plan. That means stay-at-home orders will be lifted in favor of aggressive mitigation. In-person retail will be allowed, with curbside and delivery preferable. Large gatherings will remain prohibited.  Gyms, spas, and entertainment facilities, such as theaters, and schools will remain closed.
The Governor says the plan will be data driven. The article posted on his website also states:
To determine when a region is ready to reopen and return to work, the state will evaluate the incidence rate of COVID-19 cases per capita, relying upon existing regional health districts used by the Pennsylvania Department of Health. A regional assessment will measure the COVID-19 cases to determine if the target goals of an average of less than 50 cases per 100,000 individuals over the course of 14 days is met. The administration will work closely with county and local governments to enable the communities to reopen and transition back to work.
It is expected that as the May 8 date approaches, more information will be released on what restrictions, if any, will be lifted and where they will be lifted.