Jeff Tech Operating Committee reorganizes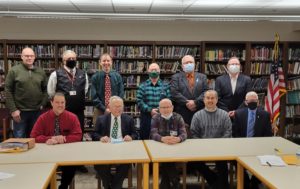 The Jeff Tech Operating Committee held it's annual reorganization meeting on December 9 in the library at the school.
Dr. Fred Park of the Brookville School District was elected to another term as board chairperson, a position he held in 2009-2010 and 2017-2021.
Dr. James Brown of the Brockway School District will continue as the board's vice chairman. Dr. Thomas Lesniewski of the Punxsutawney School District will continue as the chief administrator.
A new member, Robert Cardamone of the Punxsutawney School District, was welcomed to the board. Long-time Solicitor Ed Ferraro was honored for entering his 60th year as a school solicitor, serving various school districts over that time period.
During the regular meeting that followed the reorganization, the committee approved a motion to keep the regular meetings on the fourth Monday of every month beginning at 6 p.m. with the exception of the annual reorganization meeting which will be held December 8, 2022. There will be no committee meetings in July and November.
Also during the regular meeting, School Director Dr. Barry Fillman thanked the students and staff at the school for their efforts to decorate the building for the holidays. Dr. Fred Park said he was impressed with what he saw.
"The building really does look nice for the season that we're in," he said.
The committee also approved a motion to increase substitute teacher pay from $100 to $120 a day. When asked if the move was an indication of the difficulty in getting substitutes in the classroom, Dr. Fillman said, "We are responding to market forces."
Dr. Fillman also wanted to alert the public that Jeff Tech will be closed December 23-January 2 for the holiday break.