Penn Highlands Healthcare: dealing with stress of COVID-19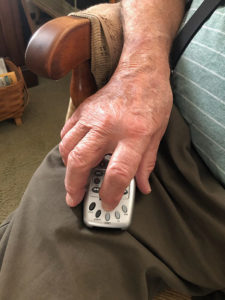 Everywhere you turn, there is a reminder about COVID-19 – in the news, on social media, and through the darkness of closed businesses, schools and churches. This tiny virus has cause a large disruption in our normal lives. It's hard to escape. 
"It is easy to have feel stress, fear and worry, right now," Rick Nenneau, MSW, Service Line Director of Behavioral Health Services at Penn Highlands Healthcare. "Even those adults and children who are happy-go-lucky can have these feelings today because the situation is so different."
First, Nenneau said, remember that everyone reacts differently to stressful situations.  How we respond depends upon our backgrounds, the community we live in, our health situation and our age. We are all different.
Some of us may feel fear and worry about our health and the health of loved ones. We may have had changes in sleep or eating patterns, or difficulty sleeping or concentrating. Chronic health problems may worsen, or some turn to an increased use of alcohol, tobacco or other drugs.
But there are things you can do to help yourself and others, Nenneau advised.
Adults and families
Hearing and seeing information about the same topic over and over becomes overwhelming. Take breaks from watching, reading or listening to news stories. Be sure to take a break from social media, too. Hearing about the pandemic repeatedly can be upsetting – even if you don't realize it.
Take care of yourself. Take deep breaths, stretch or meditate. Take two minutes to sit and think about nothing but your breathing – in and out. Think about a calming and beautiful place to visit – even if you've never been there and the place does not exist in the real world. Don't worry about your mind being "empty." Your brain will still have thoughts – just make sure they are beautiful ones instead of worrisome ones.
Learn. This is a great time to learn new coping skills or improve yourself. The Internet is full of how-to videos and advice. With many places closed and events canceled, think about where you want to improve in your life and learn more. Maybe it's about how to write a better email at work, how to organize your closets or how to go fly-fishing. Review other coping mechanisms and meditation sites. When this is all over, you've gained something.
Keep doing the activities that you enjoy. It's ok to step away from the chaos and be happy. Knit, paint, draw or be creative any way you wish. Read a good book.
Talk with people that you enjoy. Find someone who is positive and call them on the phone. Even a short, few minutes will brighten both your days. If the person is a confidant, don't be shy about sharing how you feel. 
Exercise regularly. Even if you are walking laps around your house, get up and move. Don't be a couch potato, and you will feel better. 
Though the grocery stores have been plundered, try to eat healthy, well-balanced meals. Sugary foods and carbohydrates, such as breads, cookies, cakes and pies, are OK in moderation, and so are a few fatty foods. However, sugars and fats have been known to worsen anxiety symptoms and impair the body's ability to deal with stress. Sugar can cause high energy which is great, but it is followed by low energy, which is not. 
Avoid alcohol and drugs. Though socially acceptable, alcohol is a depressant. It won't help. And you already know drugs are bad.
Get plenty of sleep. Most adults need 8 hours, while teens need 9.5 hours. Infants and children need much more.
People with preexisting mental health conditions should continue with their treatment and be aware of new or worsening symptoms.
Children and teens
Children and teens react, in part, on what they see from the adults around them. When adults are calm and confident, they will be better equipped to handle today's world. 
Not all children and teens respond to stress in the same way. Some common changes to watch for include excessive crying or irritation in younger children, returning to behaviors they have outgrown, such as toileting accidents or bedwetting; excessive worry or sadness, unhealthy eating or sleeping habits, irritability and "acting out" behaviors in teens, difficulty with attention and concentration, avoiding fun activities, unexplained headaches or body pain and the use of alcohol, tobacco or other drugs.
Take time to talk with your child or teen about the COVID-19 outbreak. Answer questions and share facts about COVID-19 in a way that your child or teen can understand, and assure them they are safe. Limit their exposure to news coverage of the event, including social media. It is easy to misinterpret it or get bad information.
Let them know it is ok if they feel upset. Share with them how you deal with your own stress so that they can learn how to cope from you. Try to have a regular routine, and create a schedule for learning activities and relaxing or fun activities.
First responders and healthcare workers:
COVID-19 precautions, preparations and worries can take an emotional toll on you. There are things you can do to reduce secondary traumatic stress, or STS, reactions.
First, acknowledge that this can have an impact on you emotionally. Pay attention to yourself. Do you feel tired? Are health conditions flaring up?  Do you feel fear or feel like withdrawing?
When you go home, allow for time to decompress. Talk to your family. You may not want to give them details, but tell them how much time you are spending on one topic. They will understand better that it is an unusual time where you work.
Follow the advice listed above for adults. Take a break from media coverage of COVID-19, and take care of yourself.
Everyone
If anyone feels overwhelmed, call your healthcare provider if stress gets in the way of your daily activities for several days in a row. Should depression and anxiety continue, Behavioral Health Services has therapists to help. Learn more about us at www.phhealthcare.org.