Penn Highlands reports vaccinations are continuing but slowed by supply
Penn Highlands Healthcare held another teleconference on January 27 to talk about the COVID-19 pandemic and the status of the vaccinations.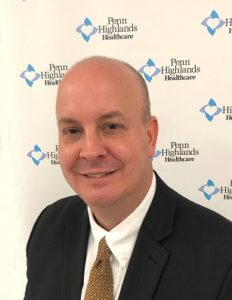 Chief Operating Officer Mark Norman said that 70% of the PHH workforce has been vaccinated. Norman added that across the PHH region, some 10,000 people have received the first and second dose of the vaccine, and another 2,000 will be vaccinated this week. Supply chain limitations will determine when vaccines are available.
Norman pointed out that the state criteria for shots has changed and it continues to be a fluid situation. Just last week, the State Department of Health revised the 1a list to include those 65 and older and those 16-64 with high risk medical conditions. PHH estimates that there are 100,000 people in this 1a group in its service region.
Right now the concentration for the vaccine is for those who are 75 or older. Clinics began for this population last week. He said this age range is the most vulnerable to infection that leads to mortality. There are some 15,000 people in the PHH region 75 and older.
"We ask people inside this age group to wait for their primary care physician to call them to get scheduled and others outside this age group to please be patient…Keep in mind that with limited vaccine quantities, we are only able to schedule one week at a time right now, so please be patient with this process" Norman said.
If you are 75 and older and you do not receive a call from your primary care physician over the next couple of weeks, Norman said you should reach out to the PHH Covid Vaccine Line at 814-503-4735 for more information.
Later in the teleconference, Norman was asked if PHH was working with the DuBois Area School District to get faculty and staff vaccinated. He said Penn Highlands has been working with all the schools in its region and PHH will get the vaccine to teachers "as soon as we can." He said some teachers in the Huntington School District did receive the vaccine before the Department of Health changed the phases and because PHH had the vaccine and did not want it to go to waste.
"The Department of Health made it very clear, and obviously we concur with this, that we would rather have vaccine in arms than waste any vaccine," he said. He also added that PHH has received limited quantities of the vaccine from the start.
"It's really important for everyone to understand that the quantity we receive is not according to our plan. This is determined by the Pennsylvania Department of Health based on supply and demand, and obviously Pennsylvania is dependent on how much vaccine it receives from the federal government," Norman stated.
Data from this area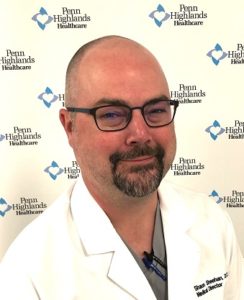 Dr. Shaun Sheehan, who heads the PHH response to the pandemic, said the numbers are showing some improvement.
"At a recent teleconference we reported that we were caring for around 72 Covid positive patients in our health system. As of yesterday that number is down to 39, so, again, we are seeing numbers trend in a positive direction," he said. These numbers reflect state-wide trends, but Dr. Sheehan said the numbers continue to change and that this is a week by week reevaluation situation.
Dr. Sheehan also reiterated that the availability of the vaccine is limited by the supply chain.
When asked if pregnant women should be vaccinated, he said they should contact their personal care physician, but the simple answer is "yes."
Dr. Sheehan said it was hard to say how long the vaccination process was going to take.
"This is going to be awhile," he said.
When asked about Covid precautions such as masks and social distancing, Dr. Sheehan stressed they need to continue for the foreseeable future but "that will not be the case forever."
Final thoughts
At the end of the teleconference, Mark Norman said the Penn Highlands facilities remain very safe as the policies put in place at the beginning of the pandemic remain in place. In fact, he said PHH is seeing at this time the lowest numbers of staff being off from quarantine or being sick from Covid-19 since the beginning of the pandemic. He added:
"I want to take a moment and reiterate that we're all in this together, the health system, our employees, other agencies providing vaccines, and, of course, the people in the community. As we said in the past, this is going to take all of us to overcome this pandemic by following safety guidelines and be patient as we proceed from phase to phase and from group to group throughout all these different phases. Our hospitals remain safe, and we appreciate the community's outpouring of support during these trying times."