Reynoldsville Borough Council holds March meeting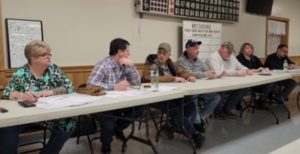 Reynoldsville Borough Council met in regular session on March 20, discussing zoning, garbage contracts, the park, and other topics.
Representatives from the Reynoldsville Community Association (RCA) attended the meeting to update the council on zoning efforts. Members of the RCA attended a webinar with Borough Council President William Cebulskie following the February meeting to get more information on what needs to be done. 
From that webinar, RCA President Sarah Caltagarone said the first step the council needs to take is to form a zoning board. A planning committee will also need to be formed and public meetings will need to be held.
RCA Member Cathy Striegel
presented the council with a copy of the Brookville plan for zoning, suggesting Reynoldsville follow their lead.
After some discussion, it was decided to start the process of forming a zoning board. Two members of council, Cebulskie and Nichole Walk, volunteered to be on the board. Caltagarone said there were members of the RCA who were interested. Other volunteers are being sought so the council can vote on the zoning committee at the April meeting.
Garbage
In an effort to clear up rumors going around the borough concerning garbage collection, Councilmember Nichole Walk, who is also the borough code enforcement officer, presented a copy of the borough ordinance covering garbage and refuse collection.
She pointed out that the ordinance is clear that borough residents must have weekly garbage pickup by the company the borough has contracted for that purpose, which is ARC Disposal.
 "Everybody in Reynoldsville Borough needs to get their residential garbage [picked up] through ARC," she said.
 The ordinance reads that if a violation occurs and it is turned over to the district magistrate, the resident could face fines of up to a thousand dollars as well as costs. They could also face imprisonment for not more than 30 days.
Walk said she was presenting the ordinance to council as a warning to those who haven't signed up for the service. She said she planned to start sending letters out in the coming days to those who are in violation of the ordinance.
ARC Disposal owner Bob Beck told council that he plans to start distributing the garbage totes to residents as soon as possible.
Council Resignation
Borough council accepted the resignation of member Max Smith effective February 28. Council now has 30 days to name a replacement. Borough residents who are interested in finishing out the remaining two years of the term should submit a letter of interest containing contact information as soon as possible. Council already has three letters on file from residents who expressed an interest in serving on council when it was thought Councilmember Walk was going to resign.
Borough Solicitor Joe Ryan emphasized that there has to be a quorum at the April 17 regular meeting so action can be taken on the vacant council seat since the deadline for the appointment is April 19. 
Borough Park
Solicitor Ryan informed council that the Pennsylvania Department of Conservation and Natural Resources (DCNR) has responded to the borough's request to get permission to turn the park over to the Reynoldsville Volunteer Fire Department. The park received a DCNR grant in the past and so the borough needs to get its permission.
Ryan said DCNR wants more information before making a decision. Among several items that have to be taken care of, the borough needs to get public comments. A survey was posted on the RCA website (goreynoldsville.com), which will remain open until March 31. A ballot was placed in the March edition of Reynlow Community News, which was distributed last week.That paper ballot can be dropped off at the Ryan Law Office at 449 East Main Street in Reynoldsville. He asked Reynoldsville residents to participate in the survey.
Ryan also said he was a little nervous about DCNR just rejecting the request.
 "They didn't say no, which I thought was a great thing," Ryan said. "Certainly they're considering it. I think it will be a great thing for [our] town."
Other items
Council approved a motion to apply for $27,535 from Jefferson County for the Mabel Street paving project. It also discussed possible CDBG Grant projects. That application is due May 19.
A motion was approved to accept ownership of a new road in the Reynoldsville Industrial Park if it is completed. The Reynoldsville Area Industrial Development Committee made the request. It is working to get the funding for the road and needed council's agreement to maintain the road so it could proceed with its efforts.
Mayor Mark August asked council for $15,000 to fund a part time police officer, especially for the summer months. No action was taken on that request.