Reynoldsville Borough Council takes action on police department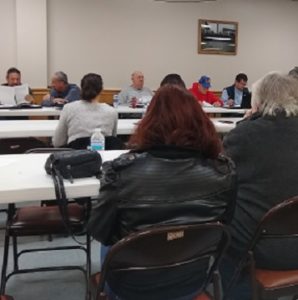 After an executive session that lasted almost 50 minutes during its regular February 12 meeting, the Reynoldsville Borough Council returned and bypassed a lengthy discussion on the police contract. Instead, it took action on the department through the budget process.
Council reopened the budget in January. Once it was opened, it began to make changes which included, as it was announced at the February 12 meeting, the police budget.
Council president William Cebulskie announced that executive session included by phone two council members who were absent, Robin McMillan and Billy Cebulskie. The decision was then announced that the borough would go to one full time police officer and one part time police officer. It would be reviewed on a month to month basis. Some of the money that had been budgeted for a second full time officer would be placed in the sinking fund.
Council president Cebulskie said he felt the action would "work out better."
"After talking with the State Police about this issue some and the hours we need coverage, we're actually going to save some money this way for the community and better the community," he said.
Teamsters Local 110 representative Rick Keller of Ebensburg, representing the department, asked about the validity of the contract. Borough solicitor Joe Ryan said, "The council's position is that the contract as it was executed was not valid."
While noting the union's position was that it was a valid contract, Ryan said, "What we've decided to do at this point is to back away from that position (that it was invalid) in an effort to avoid litigation and the cost of that and to go this route (through the budget process)." He also added, "We're not conceding it's a valid contract; we're not in the position right now to contest."
Keller asked if the department would continue to work under of terms of this contract, the response was yes.
Council then approved the revised 2020 budget and related taxes.
After the meeting, Keller told Reynlow News that he planned to talk with the union's legal firm tomorrow and get an opinion on whether the union can take legal action.
Also after the meeting, Mayor Peach Caltagarone, who is in charge of the police department, said, "I think it will work."
He said Chief Troy Bell will stay on as the full time officer. Sergeant Tammy Murray will be moved to part time status. He expected to have the new schedule in place by the first of the month.