Reynoldsville Council names Citizen of the Month, awards pool repair bid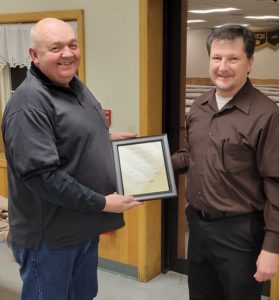 The Reynoldsville Borough Council met in regular session on January 26 and named the Citizen of the Month for January.
Rick Young of Sintergy, Incorporated, located in the Reynoldsville Industrial Park, received the recognition for what the company does for Reynoldsville and the surrounding area.
Sintergy is in the middle of constructing a 28, 800 square foot addition to its facility which will bring additional employment opportunities and expand production areas to service the company's international customer base. Currently, the company employs 75 people and operates on a 24/7 schedule.
Young was unable to attend the meeting, so the award was presented to Roger Jones, Human Resources and Facilities Director at Sintergy.
Pool bid awarded
Council awarded a pool project bid totaling $330,000 to Francis J. Palo, Inc. As was explained at a previous meeting by Pool Representative Jack Matusky, this project will be the first phase in a two-phase project and will include deck and piping repairs. That project is expected to start in the spring.
Additional funds are being sought for a second phase, which will include repairs to the interior of the pool.
Other actions
The council approved a motion to seek a state grant to resurface the tennis courts at the park and turn it into a skate park and roller hockey area. Council also approved a motion to retain Borough Solicitor Joe Ryan for 2022. Several residents at the meeting as well as council members praised the borough crew for their efforts in keeping the streets clean of snow and ice.