Reynoldsville Veteran's Memorial Park Committee reviews revised plans, adds new monument
The Reynoldsville Veteran's Memorial Park Committee met on June 3 and reviewed two revised plans for the area located on Main Street adjacent to Uni-mart.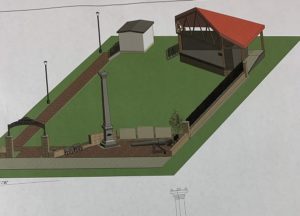 The plans, designed by Ray Bussard, formerly of KTH Architects of DuBois, explained the designs to the committee, pointing out the differences in design. He said the first step is to get a site engineer to review the plans and what site preparation needs to be completed. Borough council member Ralph "Tucker" August will work with Bussard and others to retain an engineer and start site preparation. That work is expected to begin this summer.
The committee also approved the inclusion of a new monument. John DeLaney of Brookville, who is a member of the Military Order of the Purple Heart organization, requested that a monument honoring Purple Heart recipients be located at the Reynoldsville site. The organization will provide the monument at no cost while the committee will pay for the foundation work.
The other monuments at the site will be the Civil War Monument currently located at the Reynoldsville Pool, and the two monuments in front of the Post Office. The park will also include one or
both cannons located now in front of the pool depending on which design is approved. The Reynoldsville American Legion is working on an additional park monument.
The next regular meeting of the committee is set for July 1 at 7 p.m. at the Legion.