DASD employees get their first Covid-19 vaccinations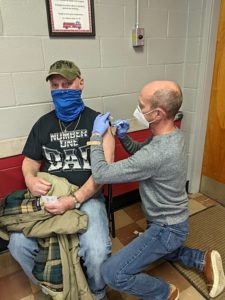 On February 5, the DuBois Area School District started vaccinations for essential employees who met the criteria for Phase 1A.
According to an email released by District Superintendent Wendy Benton, the district had received requests for 318 vaccinations as of January 18 with another 59 individuals who "may be interested."
Of those requests, 160 eligible individuals for Phase 1A shots will received their first Moderna vaccine shot on February 5 through a partnership with DuBois Drug and Wellness. The second dose is scheduled for March 5 and 13.
The February 5 clinic was held at the Third Ward Hose House in DuBois.
In the statement, Superintendent Benton said the district offered the vaccinations not only to the teachers and instructional support staff but also to the custodial staff, maintenance workers, bus and van drivers, and food service workers.
"As COVID mitigation is a shared responsibility, so is the education of the youth in our community," Benton stated. 
In her closing remarks, Benton added, "Our community has continued to demonstrate resilience for each other and for our youth. When faced with challenges, our community always pulls together for the common good. We could not be more thankful for the partnership with DuBois Drug and Wellness, the hospitality of the DuBois Fire Third Ward Hose House, the expertise of the pharmacists administering the vaccinations and for the commitment of our school community in our quest to keep our schools open for the students that we serve."