First COVID-19 case confirmed in Clearfield County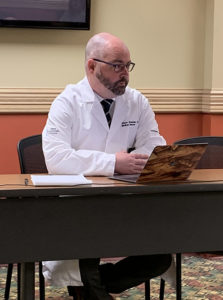 Penn Highlands Healthcare today confirmed a positive COVID-19 test in Clearfield County.
During a teleconference with reporters today. Dr. Shaun Sheehan, D.O., who is in charged of the Penn Highlands response, said that there was one positive result, but that person was not in or being treated at a Penn Highlands facility.
He added that so far, about 100 tests have been given, with about 20 negative responses coming back so far. This is being tracked on a daily basis, he said, with more results coming in.
Right now, it did take seven to ten days to get a result, but that timeline is shortening. Dr. Sheehan said he believes the wait will be down to 48 hours.
The facility is following the PA Department of Health and CDC guidelines as to who should be tested.
"There are ways to protect yourself from this," he said. He listed the common protections, including hand washing and social distancing. He added that if someone displays symptoms, such as a fever, a cough, and breathing problems, they should contact their personal care physician and follow their recommendations.
More information on this teleconference will be posted later today.