Memorial Day services held in Reynoldsville. An article by Peggy Zortman.
MEMORIAL DAY SERVICE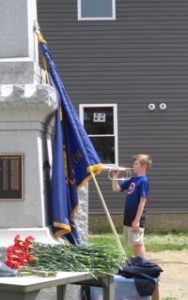 American Legion, Post #392 and the Veterans Memorial Park Committee presented Reynoldsville's 25th Annual observance of Memorial Day. 
A sizeable group of residents gathered in the Veterans Memorial Park in Reynoldsville on Sunday May 28 to witness the emotional ceremony honoring our fallen soldiers. 
Michael Caltagrone acted as Master of Ceremonies; Rev. Becky Edwards prayed the Invocation and Benediction. Janine Wolverton, Commander of American Legion, Post #392 explained the Missing in Action (MIA) table and the Field Remembrance icon. (A way for those still in the field to remember a fallen comrade).
Senator of the 25th District, Cris Dush, was the keynote speaker and as a veteran himself, became emotional as he talked about how a young soldier going into battle is terrified . . . and yet marches bravely forward knowing they are fighting the good fight.
A folded flag,  a cross,  and a Purple Heart were presented by Joseph Gibson, Hunter Gibson,  and Anna Marie Gibson and received by Lisa Edwards. Gold Star  Mothers (mothers who lost a child in battle) were represented by Patricia Engle Gearhart.
Darla Shaffer read the Deceased Roll Call and as each name was read a red carnation was presented and Lisa Edwards rang a bell in remembrance. A wreath was then presented and a moving rendition of "TAPS" was played by Joseph Gibson of Cub Scout Pack #72.
American Legion Post #392 Rifle Detail members Skip Williams, Bill Shelton, Ken Snyder, Howard Moore, Dan Edwards, Allen Klebacha, Benny Wolfgang, and  Sergio Caltagarone fired the traditional rifle volley in tribute.
The community thanks FRANCIS M. CALTAGARONE who for the past 25 years has worked to build this Veterans Park so all Reynoldsville residents may have a place to remember, honor and reflect.