Harmon receives Reynoldsville Citizen of the Month for March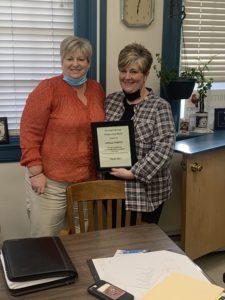 The Reynoldsville Borough Council honored its March Citizen of the Month at its April work session on April 7.
The council was unable to make the award last month because the recipient, Shelly Harmon, was unable to make that meeting.
Harmon was at this meeting and received her certificate from borough councilwoman Robin McMillan.
"I don't think it can go without notice, not only Shelly but all our other volunteers, when they get called out, whether its holidays or the middle of the night, [that] we're fortunate to have the ambulance crews that we have," McMillan said.
Harmon worked for the Reynoldsville Ambulance Service for the past 31 years as a volunteer and paid employee. She left as a paid employee in earlier this year but remained with the service as a board member and volunteer EMT.