One Stop owner moving ahead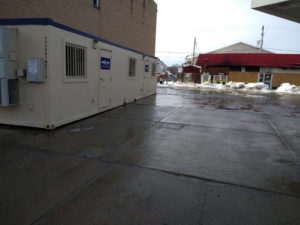 After a fire destroyed the Reynoldsville One Stop convenience store on January 22, owner Jim Brown of DuBois said he had only one thing in mind—to rebuild. On February 14, there was evidence of that plan.
A trailer has been located to the side of the One Stop parking lot (see photo). Brown hopes to get a temporary store up and running soon.
He said the property hasn't been released by the insurance company yet, so there's no timeline for reconstruction. Brown stated he would like to get rebuilding as soon as possible. "The quicker the better," he said.
In the meantime, efforts are underway to establish small store in the trailer at the site on Main Street. The hope is to provide gasoline and other basic items until the new store can be opened.