Penn Highlands Healthcare reduces staff by 600 employees across the system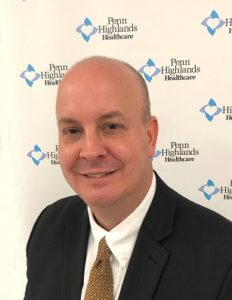 The good news on today's Penn Highlands Healthcare (PHH) teleconference was that there has not been a surge in COVID-19 cases across the system. The bad news is the economic damage the virus has caused the system is forcing a large reduction in staff.
Mark Norman, Chief Operating Officer, said that PHH has seen a 40% drop in net revenue in the month of April for a variety of reasons, including the cancellation of elective surgeries (down 83%), radiology tests (down 47%), lab tests (down 59%), and clinic visits (down 59%).
Speaking to the media, Norman said, "You can probably appreciate that this was an incredibly hard decision, and we realize the effect this will have on our employees who will be impacted." He added, "This decision to reduce our workforce is 100% due to the pandemic."
Overall, PHH is reducing its staff across the system by 600 employees through a combination of furloughs (through May 31), layoffs, and the elimination of outside agency staffing. About 60% will be furloughed so those employees can be called back quickly if the volume increases, he said.
 In this area, Clearfield will see a reduction of 43 employees; DuBois will lose the most at 338, which includes PHH physician practices as well; Elk County will lose 65.
When asked if there would be more furloughs in the future, Norman responded, "No, not at this time."
PHH is seeking financial help from the government, but even if the money is received it will be in the form of loans that will have to be paid back.  Norman said that money would "pale in comparison to the anticipated losses over the next several months."
Despite the staff reductions, Norman said because the goal is to continue to provide safe and  exceptional care to the communities it serves, PHH will continue to move forward with many of the construction projects it announced over the past two years.
Update: when asked via email today about the difference between layoffs and furloughs, PHH responded:
"…the furlough will be in effect through May 31. Furloughed employees will be able to use paid time off, file for unemployment, and may continue to receive benefits. These employees may be called back to work based on volume increases. In contrast, employees who were laid off will depart the organization permanently and will be eligible for unemployment immediately."