Accident in Reynoldsville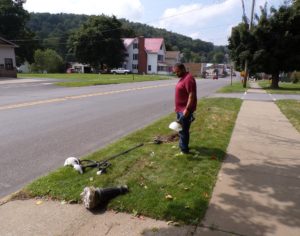 An accident occurred shortly after 1:30 on August 21 on East Main Street in Reynoldsville.
A pickup truck was traveling east when it went off the roadway and knocked down two of three lights in front of the Snyder-d'Argy Funeral Home. It narrowly missed a utility pole before coming to rest in the parking lot of Gabriel's Auto Repair.
The driver was uninjured.
"I'm glad no one was hurt," said Jacob d'Argy, the owner of the funeral home.
Reynoldsville police and fire responded to the scene. The driver could be facing DUI charges once the investigation into the cause is completed. The damage estimates were set at $4,000.00