Area Girl Scouts volunteer and learn about digital movie making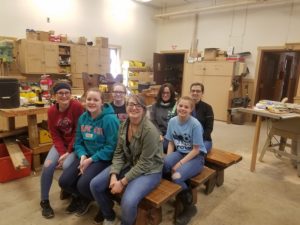 Girl Scouts from our area have been busy in recent weeks.
Senior Girl Scout Troop 16409 recently went to Parker Dam and fixed benches as part of a service project (see photo). Troop leaders are Jamie Dixon and Amanda Zernell. The girls are from the Reynoldsville and Falls Creek areas.
Cadette Girl Scout Troop 16409 recently finished their Digital Movie Maker badge with guidance from Mr. Sam Ettero at Jeff Tech. The video they produced can be watched here.
The members of this troop are made up of girls from Reynoldsville, Sykesville, and Punxsutawney  and include Amayah Pollnac, Aubrie Martin, Chloe Welder, Desarae Miller, Kailey Croasmun, Madison Delarme, and Sara Guthrie. Troop leaders include Amanda Zernell, Becky Welder and Elizabeth Delarme.
Both troops belong to the Girl Scouts Western PA council.
Information and picture submitted.