Borough Council told the park can be turned over to the fire department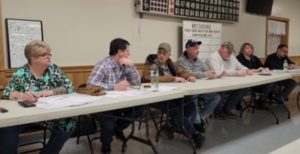 Reynoldsville Borough Council met in regular session on February 20 and was able to take care of business in a timely fashion.
Borough Solicitor Joe Ryan told council that, based on his discussions with the state, which provided grant monies for the playground and parking lot, he believed that the Reynoldsville Volunteer Fire Department could take over the park from the borough. It was originally believed that because of the state grants, that couldn't happen, but Ryan said that's not the case. He provided three options , one where the fire department would take over the park entirely with the stipulation that it has to remain open to the public and "if not it has to revert back to the borough." Council approved that option. Ryan said he would ask the state for its approval so the process could proceed.
Fire Chief Darren Scolese said this is something the volunteers have been wanting to do for a long time. "It's still the Harry Kunselman Memorial Park, it's still Falcon Field…we want to take care of it," he said.
Sarah Caltagarone, president of the Reynoldsville Community Association (RCA), asked the council to close Fifth Street from Willow Alley to the Main Street for vendor use during the Red, White, and Blueberry Festival in July. That request was approved. She also asked for parking restrictions on Main Street from 5th Street to Third Street during the Christmas Parade in November. She said it was safety issue. Council also approved that request.
Borough Council President William Cebulskie said more information had to be gathered before the borough could proceed with the RCA request for zoning in the borough. He said he planned to participate in an online conference about zoning next week. He invited RCA representatives to participate in the conference as well.
Councilmember Ralph August reported that the street crew was waiting for the blacktop to come in so they can start working on potholes. He said they also plan to start working on the alleys.
One resident asked for help with a broken drain on North First Street. Celbulskie told the resident that the drain is slated to be repaired this year.
At the end of the meeting, President Cebulskie said the borough had received letters of interest for the council seat held by Nichole Walk since there had been word she was going to resign from council. However, that is not the case. He thanked those who sent the letters for their interest. (Corrected 2/21/23)